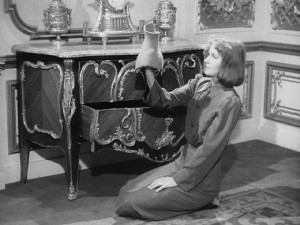 Last week I wrote about Billy Wilder's life and how it can inspire us to get through some of the emotional obstacles we face as writers. One of the things I admire about Wilder was his ability to continually learn from the masters, in his case, from his mentor Ernst Lubitsch. Every Wilder fan has heard about the famous Lubitsch touch, but what did Wilder mean by it? Here's a great video in which Billy Wilder himself explains it:
And here are some other examples of what Wilder admires about that extra twist that Lubitsch could come up with:
Let's say your millionaire is an American who is very stingy. He goes to a department store in Nice on the French Riviera where he wants to buy a pajama top, but just the top, because he never wears the pants. She (the love interest) has come to the same counter to buy pajamas for her father, who as it happens only wears the pants. …

Lubitsch, of course, would always find a way to make something better. He put another twist on that meeting. … and said, What if when Gary Cooper comes in to the store to buy the pajama top, the salesman gets the floor manager, and Cooper again explains he only wants to buy the top. The floor manager says, Absolutely not, but when he sees Cooper will not be stopped, the floor manager says, Maybe I could talk to the store manager. The store manager says, That's unheard of! but ends up calling the department store's owner, whom he disturbs in bed. We see the owner in a close shot go to get the phone. He says, It's an outrage! And as the owner goes back to his bed you see that he doesn't wear pajama pants either.
And a third example from the same Paris Review interview:
One example I can give you of Lubitsch's thinking was in Ninotchka, a romantic comedy that Brackett and I wrote for him. Ninotchka was to be a really straight Leninist, a strong and immovable Russian commissar, and we were wondering how we could dramatize that she, without wanting to, was falling in love. How could we do it? Charles Brackett and I wrote twenty pages, thirty pages, forty pages! All very laboriously.

Lubitsch didn't like what we'd done, didn't like it at all. So he called us in to have another conference at his house. We talked about it, but of course we were still, well . . . blocked. In any case, Lubitsch excused himself to go to the bathroom, and when he came back into the living room he announced, Boys, I've got it.

It's funny, but we noticed that whenever he came up with an idea, I mean a really greatidea, it was after he came out of the can. I started to suspect that he had a little ghostwriter in the bowl of the toilet there.

I've got the answer, he said. It's the hat.

The hat? No, what do you mean the hat?

He explained that when Ninotchka arrives in Paris the porter is about to carry her things from the train. She asks, Why would you want to carry these? Aren't you ashamed? He says, It depends on the tip. She says, You should be ashamed. It's undignified for a man to carry someone else's things. I'll carry them myself.

At the Ritz Hotel, where the three other commissars are staying, there's a long corridor of windows showing various objects. Just windows, no store. She passes one window with three crazy hats. She stops in front of it and says, "That is ludicrous. How can a civilization of people that put things like that on their head survive?" Later she plans to see the sights of Paris—the Louvre, the Alexandre III Bridge, the Place de la Concorde. Instead she'll visit the electricity works, the factories, gathering practical things they can put to use back in Moscow. On the way out of the hotel she passes that window again with the three crazy hats.

Now the story starts to develop between Ninotchka, or Garbo, and Melvyn Douglas, all sorts of little things that add up, but we haven't seen the change yet. She opens the window of her hotel room overlooking the Place Vendôme. It's beautiful, and she smiles. The three commissars come to her room. They're finally prepared to get down to work. But she says, "No, no, no, it's too beautiful to work. We have the rules, but they have the weather. Why don't you go to the races. It's Sunday. It's beautiful in Longchamps," and she gives them money to gamble.

As they leave for the track at Longchamps, she locks the door to the suite, then the door to the room. She goes back into the bedroom, opens a drawer, and out of the drawer she takes the craziest of the hats! She picks it up, puts it on, looks at herself in the mirror. That's it. Not a word. Nothing. But she has fallen into the trap of capitalism, and we know where we're going from there . . . all from a half page of description and one line of dialogue. "Beautiful weather. Why don't you go have yourselves a wonderful day?"
I've been thinking a lot about the Lubitsch touch and here's what I take away from Wilder's explanations:
Human nature being what it is, people are going to react in certain predictable ways regardless of the situation. For instance, when confronted with a cheating spouse, it's normal for people to get violent. As screenwriters, we might say to ourselves, "Yeah, but we've seen that violent reaction soooo many times. I want to make the scene different." I understand that instinct, but if we ignore the emotional truth of a situation, there's the danger of alienating the audience. The Lubitsch touch doesn't sacrifice psychological veracity, if anything, it plays on it. Instead, everything hinges on "the reveal," the moment in which the character realizes something. We never think of this as a plot point, but internal change IS the basis of the plot, right?

Lubitsch handles these moments in intrinsically cinematic terms, which is what makes them elegant and fresh while simultaneously engaging the audience. What's original is HOW he constructs and set up that epiphany and how he presents it to the audience.
He never insults the audience by playing up the moment. Instead, he develops the reveal slowly: We as the audience know what's going on and we're anticipating the king's reaction. Will he find out the queen is cheating? By the time he realizes that the belt isn't his, we know how he feels. It also duplicates the experience of how we as people often realize something in real life; in life, there are no voice-overs telling us what's going on. That further amplifies the emotional connection between character and audience.
These  take-aways are useful for screenwriters in particular since we don't have the luxury of the novelist; we can't just spin a paragraph about what's going on in the character's head. Yes, it's incredibly hard to come up with such seemingly effortless and graceful "revelations," but maybe thinking about "How would Lubitsch do it" will inspire us like it did Wilder.