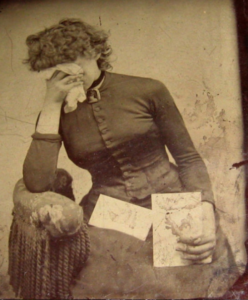 These are the emails that try women's souls.
1. Tell me that, since we've both given each other 3 or more stars, I should stop answering everyone else's emails and focus just on you. (Note: This is your first email to me ever.)
2. Email me this: "Very pretty. Now let's c u." (Email back: "Very ballsy. Now let's kick u in the nuts.")
3. Tell me you're in town for the weekend – you live in Australia or in Tahiti or in the McMurdo Station –, and you're feeling lonely, so will I meet you at 8pm at Such and Such and place tonight for dinner? (Nothing flatters a woman more than being mistaken for an escort.)
4. Let me know that you're free tomorrow (Saturday night) and I seem really spontaneous so let's just meet at 10pm at Such and Such a Place you've picked. (Note: 2nd email, we've never spoken on the phone and we never even discussed meeting. Nothing's hotter than a total stranger who assumes I'll drop my weekend plans just for him. And if I end up ingesting a roofie and getting raped on the floor of a public bathroom, well, hell, you gotta live dangerously.)
5. Ask me if I'm open to a Friends With Benefits situation. (This is not the beginning of a beautiful friendship.)
6. Tell me you're married and looking for a discrete "friend" who "understands" your "special situation" and I seem so "kind." (Thank you for confusing me with a doormat.)
7. Contact me several times even though I don't answer because all of your pictures are of you in Troll wigs, or in superhero outfits, or in a Speedo, or pointing a gun at the camera. Or your profile is a screed against "feminazis" and women who hate "nice guys". Or a perfect storm of all of the above. Keep insisting that I give you a chance because you really feel we might be "soulmates".
8. Ask me if I'm into younger men. You're looking for a "mentor", wink wink nudge nudge! (You're 17. Nothing ruins a first date like statutory rape and a call from your Mom.)
9. Ask me if I'm into older men. It could be really "fun," wink wink nudge nudge! (You're 77. Nothing ruins a first date like a Viagra overdose.)
10. Let me know that you're willing to go out with me, even though I'm really too old for you – we're the same age or you're older –, and I look pretty good even though I'm "no spring chicken". Clarify: Are my pictures recent?
11. Attempt to engage me in a very intellectual, "hypothetical" discussion about sexual practices.