Category: Birthday Mixtape
Yesterday was the Master of Suspense's birthday. In his honor, I've assembled a few scenes from his less discussed works.
Yesterday was Simón Diaz's birthday, the author of many of the tunes I grew up listening to as a child. Although he is little known in the U.S., this Venezuelan singer-songwriter's tunes have been translated and adapted worldwide. In fact, if you've ever heard the Gypsy King's Bamboleo, then you heard a sliver of Diaz's most famous song, Caballo Viejo.
Diaz's work is lyrically, intrinsically Venezuelan. Inspired by life on the llanos, or the plainlands, Diaz revitalized the traditional work song, tunes that plain men and women sung while engaged in the monotony of farm labor. The result  is both poetic and down-to-earth, and reaches deep into the human soul through the use of nature and animal metaphors. Below is the birthday mixtape. Hope you enjoy it.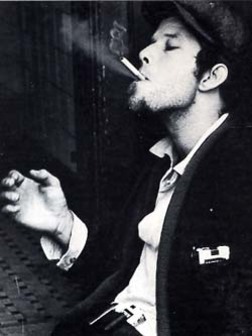 Today is Tom Waits' birthday. His atmospheric, strange, and memorable music has always been a fave of mine. Let's put some quarters in the jukebox and have a listen, why not?